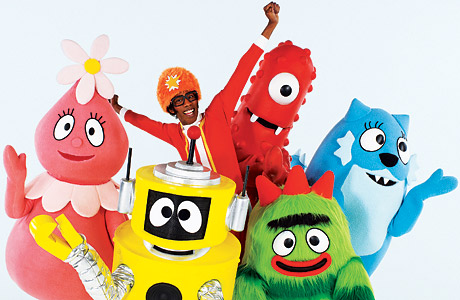 So a few of you may know the up and coming kids show
Yo Gabba Gabba

,
but what some of you might not know is that my sister-in-law, Emma, plays the pink character of Foofa! Her brother is the creator and director of the show, and lead singer of the band
The Aquabats.
This weekend my mom and my brother, Emma's hubby, went out to see their first of several live shows and guess who she sat next to and chatted it up with? Weird Al Yankovic, his wife and kids. (*Funny side note - she didn't know who he was so when she was telling me who she sat next to she said, "Some weird Al something-or-other." Thanks for the laugh mom.) Also present were Dennis Quaid and his kids, the blonde girl from Scrubs, Jason Bateman, Christina Aguilera, and Mat Costa and a few other celebreties that my mom didn't know and my brother had to point out to her. Snoop Dog performed (look at me name dropping and I wasn't even there ;) Today Brad Pitt, who is a fan of the show, is taking his whole crew of kids to go and see the show. Brad also dressed up as DJ Lance Rock from the show for Halloween this year. Click
here
to see the photo.
So that's my claim to fame, via my mom ;) Foofa and
Yo Gabba Gabba
fans look for them in the
Macy's Thanksgiving Day Parade
this year!
Yea Emma!